Regular price
Sale price
$59.99 USD
Unit price
per
Sale
Coming Soon
This Anti-Aging Collagen Complex for Men package contains 30 sticks, which is sufficient for 1 to 2 months.
RevitalTrax Anti-Aging Collagen Complex is a unique drinkable blend of patented VERISOL® Bioactive Collagen Peptides and other active ingredients, developed for a more beautiful and healthier skin texture. It has been proven by clinical studies that it is an effective complex that nourishes the skin from the inside and gives it a younger appearance. Discover the other benefits quickly!
Natural skin rejuvenation

Reduces wrinkles and fine lines




Helps maintain the elasticity and firmness of the skin

Contributes to a clear mind




Keeps the hair strong and shiny

Helps improve hair volume

Contributes to fertility




Promotes the production of testosterone 

Helps with muscle building and muscle recovery

Contributes to resistance to stress and exertion
---
SKU :
RVT-CCM-030
View full details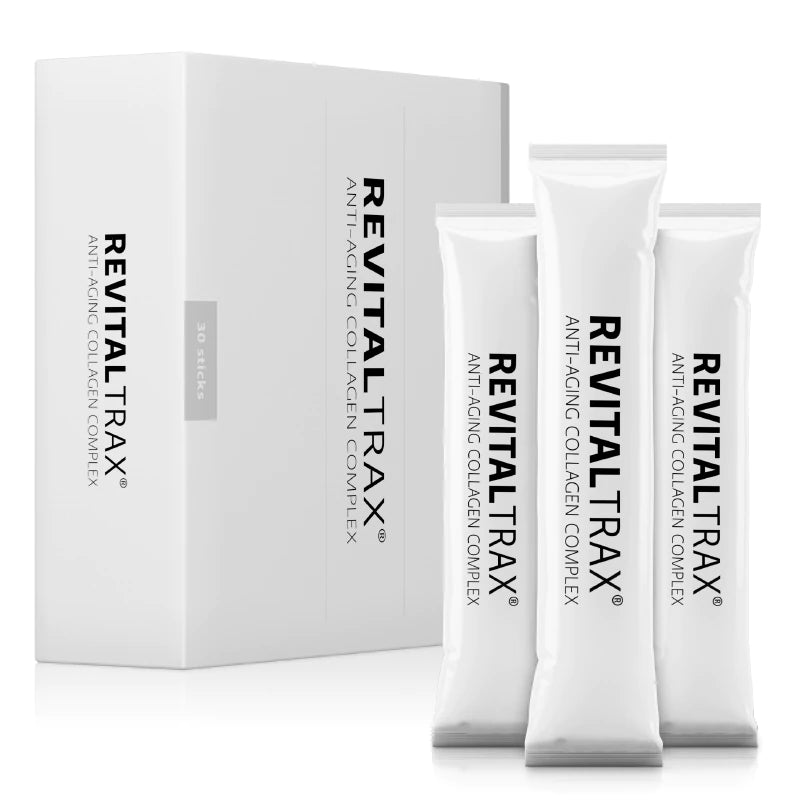 ADDITIONAL INFORMATION
Ingredients
Collagen Peptides (VERISOL®) from Bovine, sodium L-ascorbate (Ester-C®), zinc citrate, D-biotin.

Application
Dissolve a stick of powder in a glass of (lukewarm) water, tea or fruit juice (200 ml). Take outside meals, for example 30 minutes before breakfast or just before going to sleep. Do not exceed the recommended dose.

Storage advice
Store at room temperature (15-25 ° C) in a dry and dark place. Keep out of reach of young children.

Important information
Not suitable for persons under the age of 18. If you are allergic (hypersensitive) to any of the substances in this formula, we recommend halving or stopping use. Consult a doctor if desired.

General information
A varied, balanced diet and a healthy lifestyle are important. This product is not a substitute for a varied diet.
INGREDIENTS
| Composition per day portion (1 stick) |   | RDA% |
| --- | --- | --- |
| Collagen Peptides (VERISOL®)-bovine  | 5.000 mg  |   |
| Vitamin C (Ester-C®)  | 100 mg  | 125 |
| Zinc (zinc citrate) | 10 mg  | 100 |
| Biotin (D-biotin)  | 2 mg  | 4000 |
* RDA = recommended daily amount
| Nutritional value | 1 stick (5,245g) |  per 100g |
| --- | --- | --- |
| Energy | 78kj / 18kcal  |  1491kj / 351kcal |
| Fats   | <0.01g | <0.01g |
| - Saturated   | <0.01g | <0.01g |
| Carbohydrates | <0.01g | <0.01g |
| - Of which sugars  | <0.01g  | <0.01g  |
| Protein | 4.6g | 87.7g |
| Salt | <0.01g | <0.01g |