Regular price
Sale price
$34.99 USD
Unit price
per
Sale
Coming Soon
Provides a firm and well-hydrated skin




Anti-aging effect




Fades fine lines

Refreshes the skin

Protects against harmful UVA and UVB rays (aging and burning)
---
Main ingredients
Sodium Hyaluronate, Squalane, Aloe Vera, Niacinamide, Vitamin E, Amino Acid, Zinc Oxide, Titanium Dioxide.

---
SKU :
RVT-CHD-060
View full details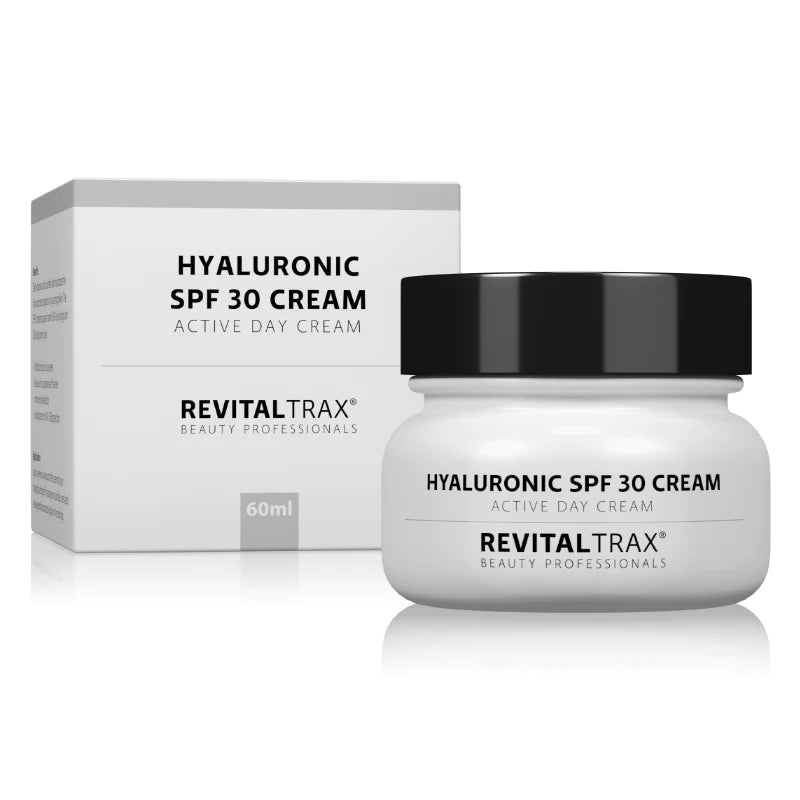 ALSO HYDRATES THE INNER LAYERS OF THE SKIN
Our products with hyaluronic acid use high and low molecular hyaluronic acid.
High molecular hyaluronic acid hydrates the outer layers of the skin and causes it to saturate with moisture.
This is very useful and certainly necessary, but hydration of the inner layers of the skin gives even more effect.
The low molecular hyaluronic acid consists of smaller molecules, which can penetrate deeper into the skin and
provide the inner layers of the skin with an ultimate moisture boost.

OTHER POWERFUL INGREDIENTS OF THE HYALURONIC SPF DAY CREAM
Squalane is an oil that is identical to a substance (a type of fat) that occurs naturally in our skin. Squalane restores the skin's natural balance by giving back what it naturally contains. Dry skin becomes less dry, oily skin less oily and beautiful skin gets an even more beautiful appearance.
Niacinamide (Vitamin B3) supports all different skin types and conditions. It is particularly effective and gentle on the skin. Niacinamide stimulates the fibroblasts, leaving the skin nice and firm with tight facial features. It prevents a damaged skin barrier, helps with pigmentation spots, inhibits the inflammatory reaction of acne, pimples and blackheads, provides a matt, smoother and radiant skin.
Vitamin E strengthens the barrier function of the skin and protects it against harmful external influences. It has a strong moisturizing effect, reduces redness, irritation and inflammation and gives the skin's own immune system a boost.
Aloe Vera is known for its medicinal and healing properties. Characteristic of this extract is that it is experienced as cooling and calming. Furthermore, Aloe Vera has a restorative capacity against scars, wounds and even eczema and acne. It is rich in vitamins A, B, C and E and contributes to the anti-aging effect. It also contains many healthy minerals, such as magnesium, calcium and zinc. Another substance in Aloe Vera is Anthraquinone. This fabric protects your skin against bacteria and fungi. 
Zinc Oxide and Titanium Dioxide are mineral or physical sun filters. They are so-called broad-spectrum filters, which means that they protect against both UVA and UVB radiation. These filters remain on the skin, reflecting UV rays. Because it does not absorb into the skin, the chance of irritation is small and it is suitable for people with (very) sensitive skin. It also does not enter the bloodstream, so it does not have a hormone disruptive effect.
ADDITIONAL INFORMATION
Storage advice
Store at room temperature (15-25 ° C) in a dry and dark place. Keep out of reach of young children.
Important information
Not suitable for persons under the age of 18. If you are allergic (hypersensitive) to one of the substances in this formula, we recommend halving or stopping use. Consult a doctor if desired.
General information
A healthy lifestyle and drinking 1.5 to 2 liters of water per day is important for optimal results.