Regular price
Sale price
$46.99 USD
Unit price
per
Sale
Coming Soon
Gives your skin a visible boost

Provides a healthy and radiant appearance

Powerful anti-aging ingredients

Protects against (premature) skin aging

Firms and moisturizes the skin 

Reduces wrinkles and fine lines

Protects the skin against harmful external influences
---
Main Ingredients
Ubiquinone Coenzyme Q10, Vitamin C, Hyaluronic Acid, Hydrolyzed Collagen, Hydrolyzed  Elastin, Vitamin E, Amino Acids.

---
SKU :
RVT-SQT-030
View full details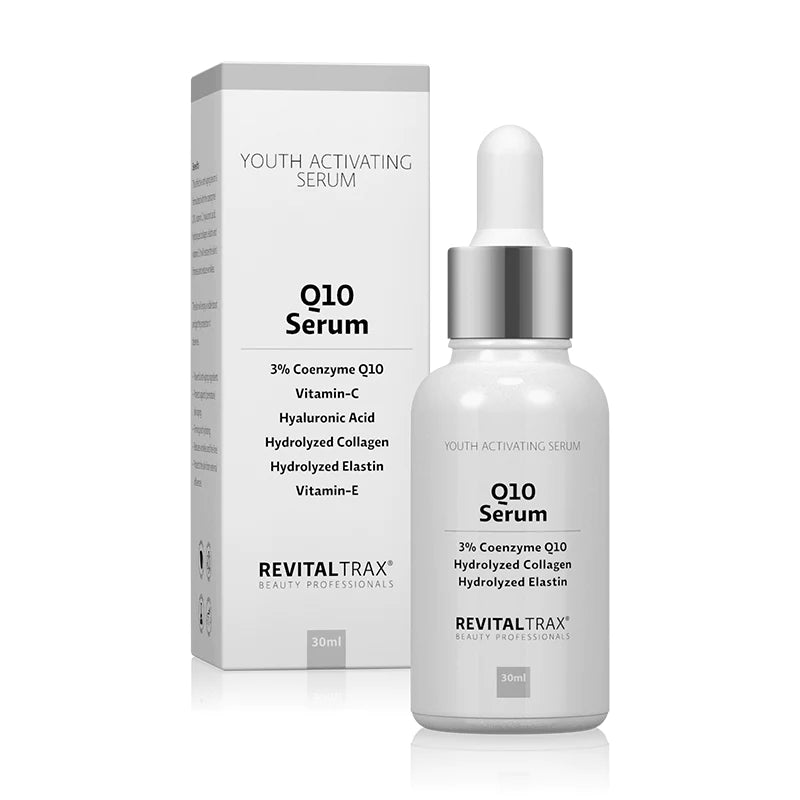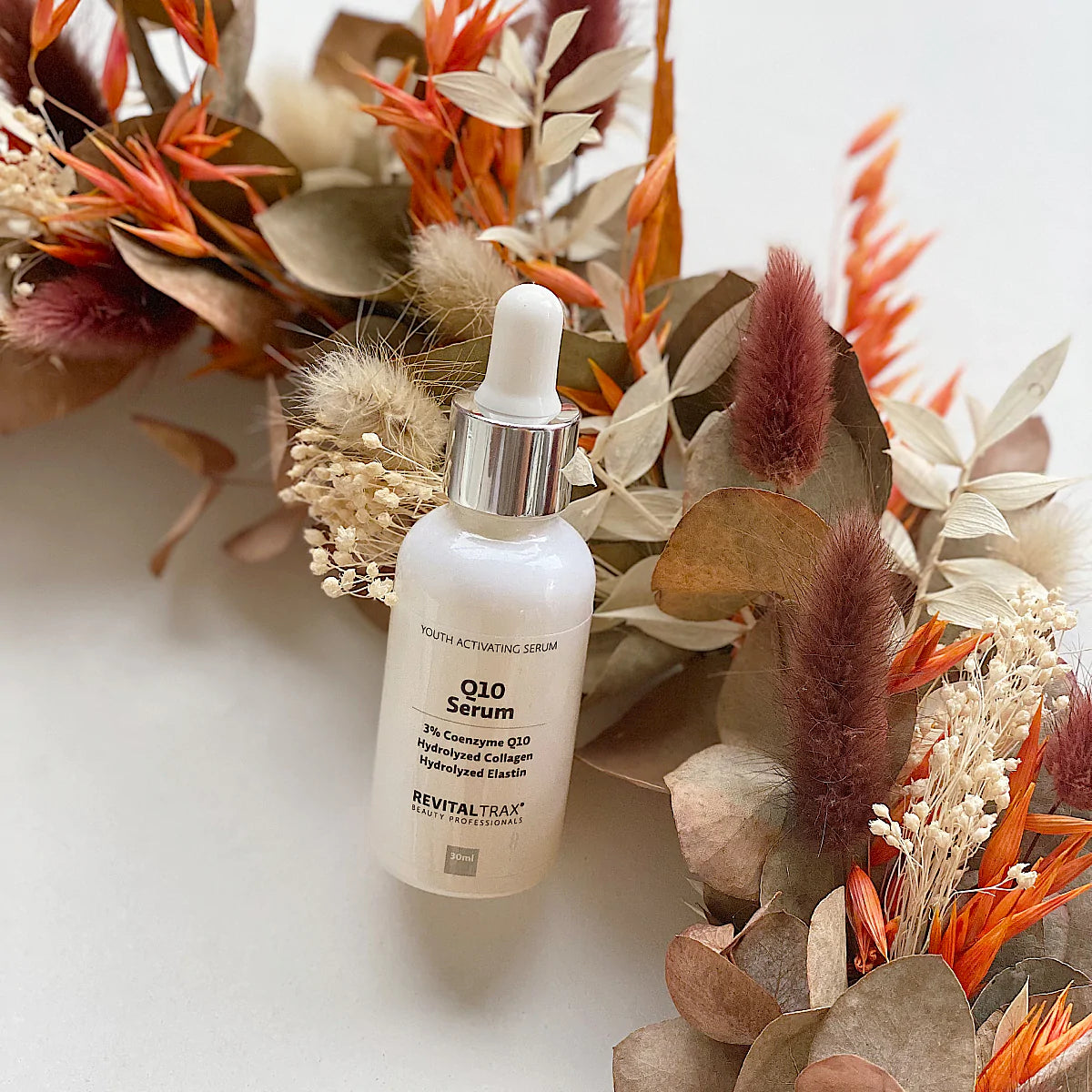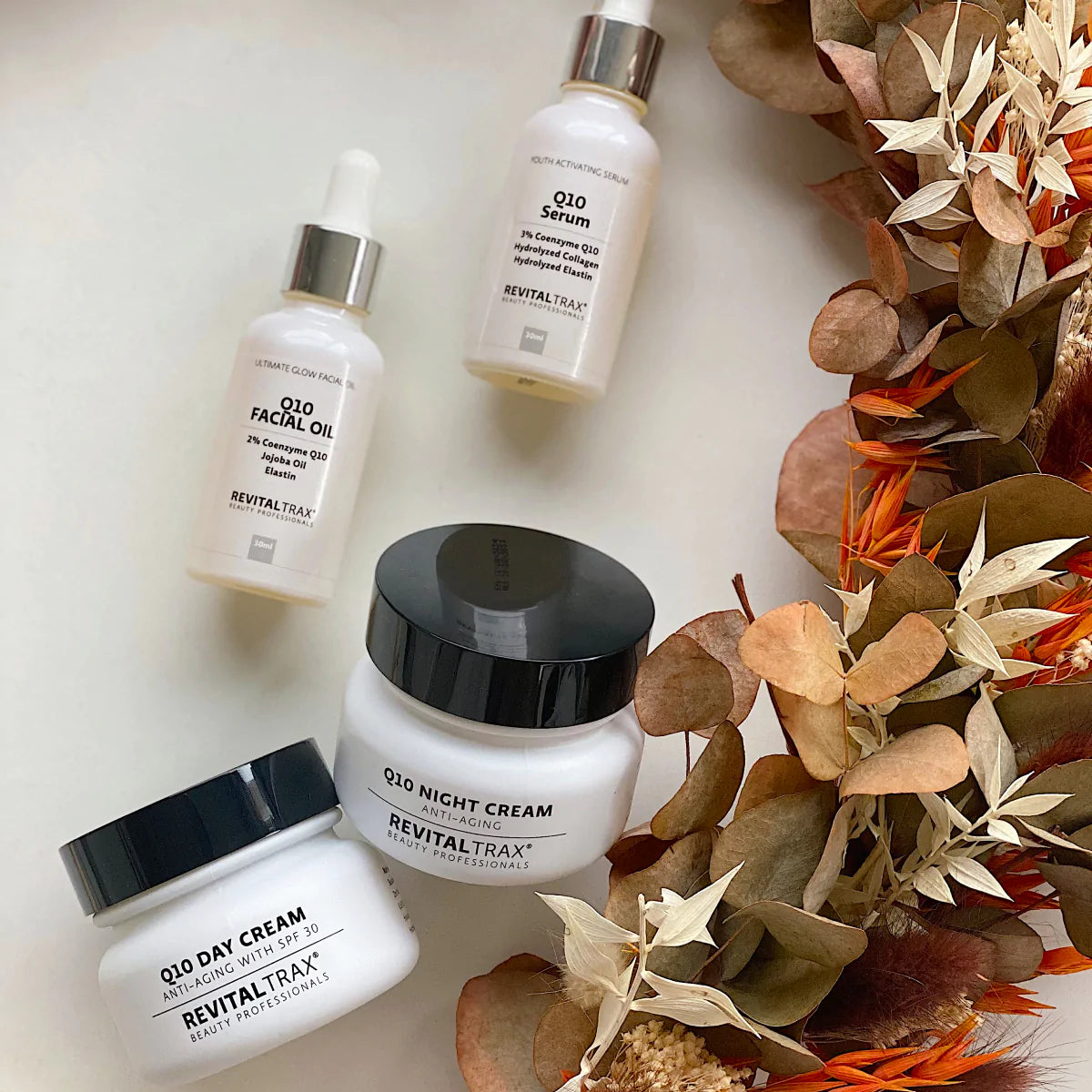 HOW DO I USE ?
For best results, use the serum twice a day. You can combine it with another RevitalTrax serum. Suitable for men & women.
It is important to first clean your face with the RevitalTrax skin cleanser. Dry your face with a clean towel.
Then apply the RevitalTrax moisturizing lotion to your face, neck and décolleté and the eye cream around your eyes.
When the lotion is absorbed, remove the filled pipette from the serum bottle.
Apply up to 5 large drops of serum to the face, neck and décolleté.
Spread the serum in an upward motion and give it some time to absorb.
Finally, apply a RevitalTrax cream to your face, neck and décolleté. After this you can apply any make-up.
For best results, use the serum twice a day.
You can combine it with another RevitalTrax serum. Suitable for men & women. 
3%Q10 Anti-Aging Serum
This high-quality serum is formulated with coenzyme Q10, vitamin C, hyaluronic acid, hydrolyzed collagen, elastin and vitamin E. It firms the skin and will reduce wrinkles.
The skin gets a visible boost.

OTHER POWERFUL INGREDIENTS OF THE Q10 SERUM
Squalane is an oil that is identical to a substance (a type of fat) that occurs naturally in our skin. Squalane restores the skin's natural balance by giving back what it naturally contains. Dry skin becomes less dry, oily skin less oily and beautiful skin gets an even more beautiful appearance.
Vitamin C offers powerful protection against harmful factors, such as pollution and UV radiation. It fades visible sun damage and superficial pigmentation. It also enhances the natural healing process, fading red spots after pimples.
Vitamin E strengthens the barrier function of the skin and protects it against harmful external influences. It has a strong moisturizing effect, reduces redness, irritation and inflammation and gives the skin's own immune system a boost.

Hyaluronic acid helps to retain more than 100 times its weight in water in the cell of the skin. Healthy moisture levels are one of the most important attributes of youthful looking skin and resulting in increased smoothness, softness and reduced wrinkles.
Elastin and collagen are natural substances that keep the skin firm and elastic. They are important structural components in the fight against skin aging.
ADDITIONAL INFORMATION
Storage advice
Store at room temperature (15-25 ° C) in a dry and dark place. Keep out of reach of young children.
Important information
Not suitable for persons under the age of 18. If you are allergic (hypersensitive) to one of the substances in this formula, we recommend halving or stopping use. Consult a doctor if desired.
General information
A healthy lifestyle and drinking 1.5 to 2 liters of water per day is important for optimal results.