Regular price
Sale price
$18.99 USD
Unit price
per
Sale
Coming Soon
Thicker, fuller and healthier looking hair thanks to collagen
Protein treatments are an essential part of improving the hair or maintaining healthy hair. The Collagen Shampoo contains hydrolyzed collagen and a variety of powerful plant extracts. This gives texture to the hair through the hair fibers and from the inside it gives reinforcement and strength. The hair is supported from the hair root for an optimal and long-lasting volume effect. This shampoo helps prevent breakage, repairs damage like split ends and promotes shine. Daily use of this shampoo will make the hair stronger and healthier, more radiant and enjoy a long-lasting volume boost. 
Improves hair health
Firms the hair
Increases shine
Long-lasting volume boost
Tip: Combine this shampoo with the RevitalTrax Collagen Conditioner for the best result. 
Main Ingredients
Hydrolyzed Collagen, Aloe Vera, Vitamin E, Panax Ginseng Root Extract, Cannabis Sativa Seed Oil, Macadamia Ternifolia Seed Oil.
---
SKU :
RVT-HCS-200
View full details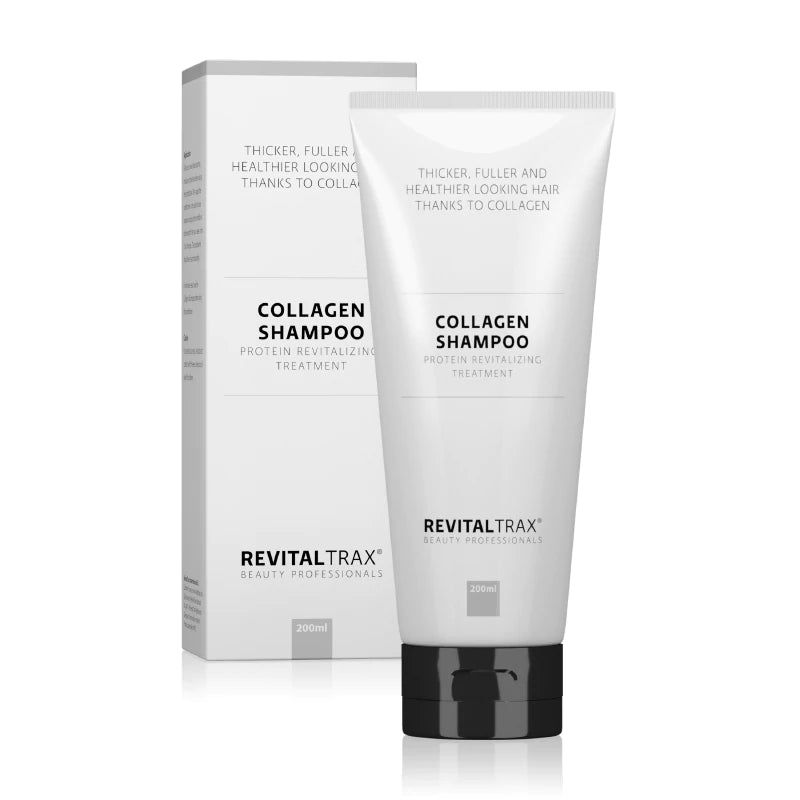 OTHER POWERFUL INGREDIENTS OF THECOLLAGEN VOLUME SHAMPOO
aloe vera Regular use of Aloe Vera in your hair repairs the dead skin cells on the scalp, promotes hair growth, prevents scalp itchiness, reduces dandruff and scalp conditions.

Vitamin E is an antioxidant that promotes hair growth and keeps your locks healthy. It will also protect your hair from harmful external influences.

Panax Ginseng Root Extract Hair loss is a common problem. This extract can increase the skin cells on the scalp, which in turn strengthens the follicles and roots of the hair. In addition, it helps to nourish the roots. This not only promotes new hair growth, but also prevents the hair from thinning and breaking. With the help of this extract, gray hair can be inhibited at the earliest possible stage.

Cannabis Sativa Seed Oil Hemp oil is known to contain important ingredients that aid in hair growth. It also prevents breakage and helps repair split ends.

Macadamia Ternifolia Seed Oil This oil makes hair look shinier and stronger. For curly hair and natural hair types, macadamia oil can be an especially valuable tool for fighting frizz and frizz. 


HOW DO YOU USE THE COLLAGEN VOLUME SHAMPOO?
Wet your hair first. Then take the right amount of shampoo in the palm of your hand and wash your scalp and hair with it. For best effect, wash time is 3 to 5 minutes. Rinse the shampoo well and then use the Collagen Volume Conditioner to close your hair cuticles.
The shampoo is suitable for men & women. It is suitable for all hair types and dyed hair. For best results, use it two to three times a week. It can be used daily if desired.
ADDITIONAL INFORMATION
Storage advice : Keep out of reach of young children.

Important information : If you are allergic (hypersensitive) to any of the substances in this formula, we recommend that you stop using it.

General information : A healthy lifestyle and drinking 1.5 to 2 liters of water per day contributes to healthy skin.