Regular price
Sale price
$18.99 USD
Unit price
per
Sale
Coming Soon
Strengthens hair roots and stimulates hair growth
The Anti-Hair Loss Conditioner contains unique and active ingredients that can penetrate deep into the scalp to nourish and strengthen hair roots and stimulate hair growth. It improves the scalp and prevents hair loss.The conditioner restructures the hair fibers to give you stronger hair less prone to breakage. It contributes to radiant, thick and bouncy hair. The conditioner does not make the hair greasy and is suitable for daily use.
Strengthens hair roots
Improves the scalp
Promotes hair growth
Increases shine
Softer and more resilient hair
Tip: Combine this conditioner with the RevitalTrax Anti-Hair Loss Shampoo for the best result.
Main ingredients
Argania Spinosa Kernel Oil , Hydrolyzed Wheat Gluten,  Ginger Root Extract, Salvia Sclarea (Clary) Oil, Vitamin E, Camellia Sinensis Extract (Green Tea).
---
SKU :
RVT-HLC-200
View full details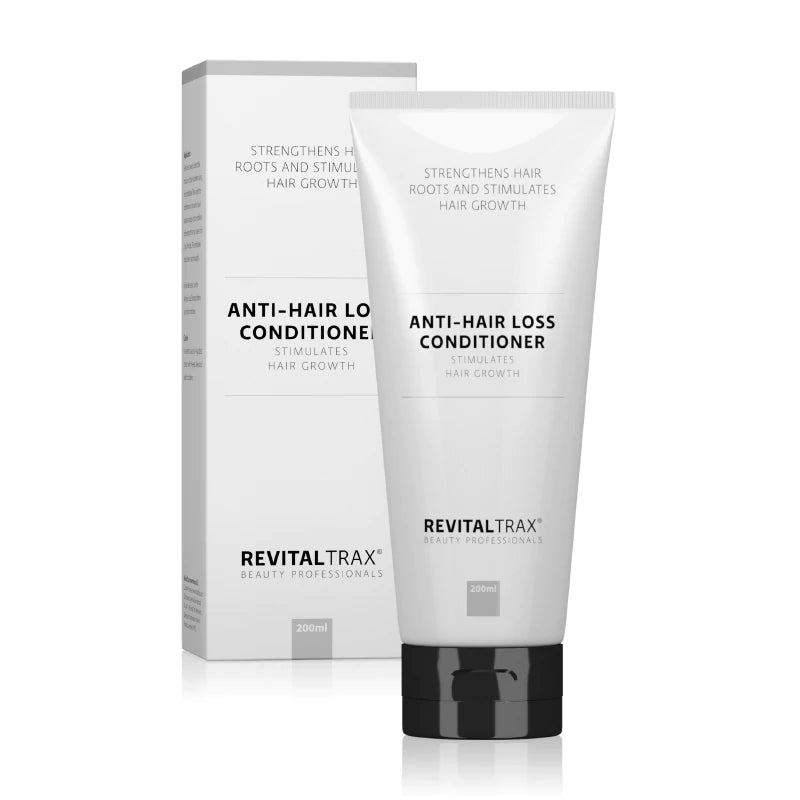 OTHER POWERFUL INGREDIENTS OF THE ANTI-HAIR LOSS CONDITIONER
Argan oil is a rare oil that is full of amazing properties. It contains great substances extracted from the nuts of Argania Spinosa (a tree native to the remote parts of Morocco). This oil is enriched with omega-3 fatty acids and vitamins A and E. Applying this oil topically can help improve the condition of hair damaged by heat or styling. In addition, it is used to restore shine and soften hair.

Hydrolyzed Wheat Gluten is easily absorbed into all layers of the hair shaft and hair follicle. Since hair is mostly made up of protein, the protein in this ingredient can repair damaged hair follicles, lift hair and reduce split ends.

Ginger Root Extract The many vitamins, minerals and fatty acids in ginger contribute to strengthening your hair strands to prevent hair loss. It also contributes to the recovery of moisture loss. Ginger offers a number of natural conditioning benefits to improve the look and feel of your hair. If you suffer from split ends or hair breakage, this is also a good ingredient.

Salvia Sclarea (Clary) Oil This has antibacterial, antiseptic, antimicrobial, antifungal and anti-inflammatory properties. It is very helpful in hair loss and dandruff.

Vitamin E is an antioxidant that promotes hair growth and keeps your locks healthy. It will also protect your hair from harmful external influences.

Green Tea contains a whole host of nutrients, vitamins and amino acids and is an essential hair care ingredient for healthy locks. It stimulates growth and gives a glorious shine. Green Tea extract is an excellent source of panthenol. Panthenol is often used to strengthen hair. Green Tea extract also contains theanine, a unique amino acid. Panthenol and theanine both strengthen the hair shaft and prevent split ends.


HOW DO YOU USE THE ANTI-HAIR LOSS CONDITIONER?
First use the Anti-Hair Loss Shampoo . Then take the right amount of conditioner in the palm of your hand and apply it to (the middle or the ends of) your hair. Leave it on for 2 to 3 minutes. Rinse the conditioner well.

The conditioner is suitable for men & women. It is suitable for all hair types and dyed hair. For best results, use it two to three times a week after shampooing. It can be used daily if desired.

ADDITIONAL INFORMATION
Storage advice : Keep out of reach of young children.

Important information : If you are allergic (hypersensitive) to any of the substances in this formula, we recommend that you stop using it.

General information : A healthy lifestyle and drinking 1.5 to 2 liters of water per day contributes to healthy skin.